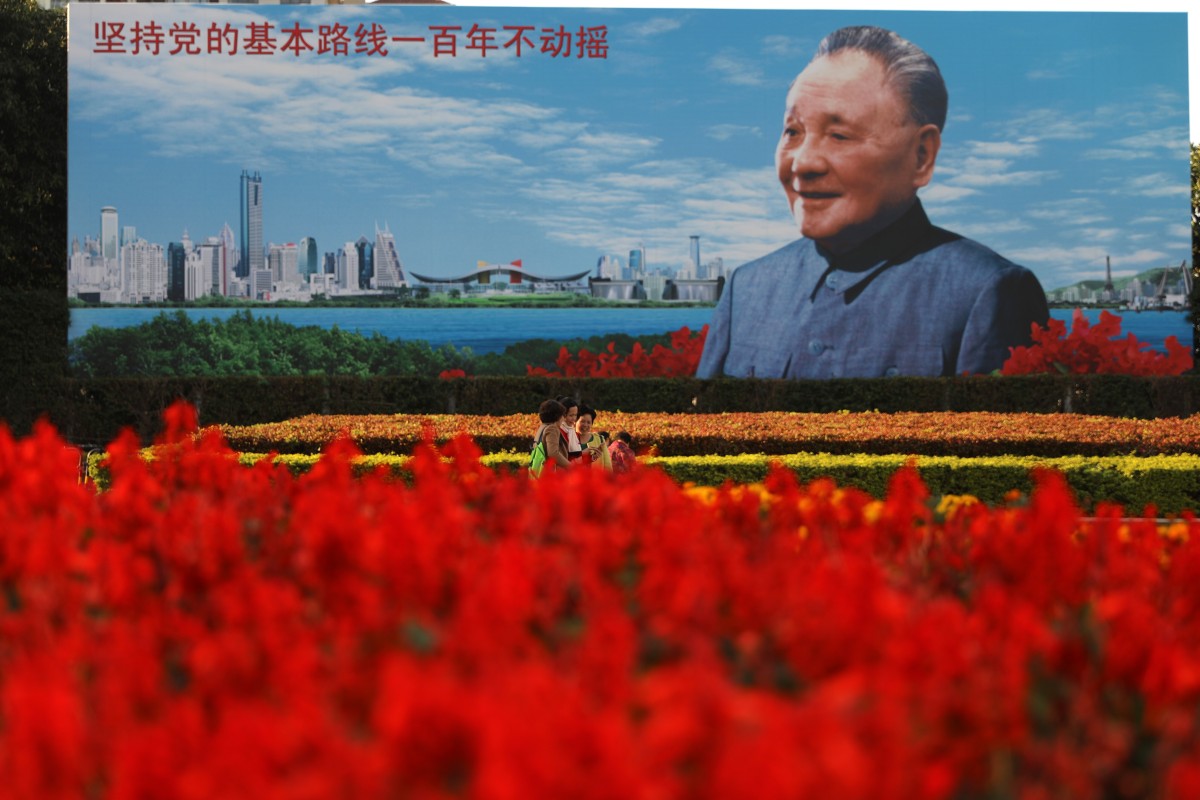 A hoarding in 2018 celebrating the 40th anniversary of China's reform and opening up in Deng Xiaoping Portrait Square, Shenzhen. Photo: Sam Tsang
One of Grace Miao's favourite weekend pastimes is a stroll through Lotus Hill Park in
Shenzhen
, on the central coast of the southern Chinese province of Guangdong, where a six-metre tall statue of former paramount leader Deng Xiaoping stands.
"I have told my two-year-old son about the statue and who he is," said the 32-year-old working mother. "I tell him this is 'Grandpa Deng' who built this place from nothing to what it is today and we should thank him for his policies."
Official commemorations of the creation, on August 26, 1980, of the Shenzhen special economic zone will take place late, tentatively on September 7, to fit in with President Xi Jinping's schedule.
Four decades ago, as one of China's reform pioneers, the unknown border town began its transformation into the country's technology capital with 13 million local residents when Deng picked Shenzhen for his famous southern tour to give his grand reform experiment a much-needed push.
. Deng's pro-reform remarks during his Shenzhen trip were broadcast on the national news in March 1992 to become one of the pivotal moments in the country's reform history.
How forty years of reform and opening up have transformed China
Huang Donghe, a founder of the city's most influential private think tank Interhoo, said Deng's visit had reassured people about the direction and future of Shenzhen's role as a testing ground for China's groundbreaking reforms, with a mission to learn from successful Western economies.
Huang, better known by his pen name "Lao Heng" in Shenzhen, said: "After Deng's visit, we saw more college graduates decide to settle down in Shenzhen, more families buying properties in the city, and lots of advertisements using 'home is a safe place' as their slogan on the streets."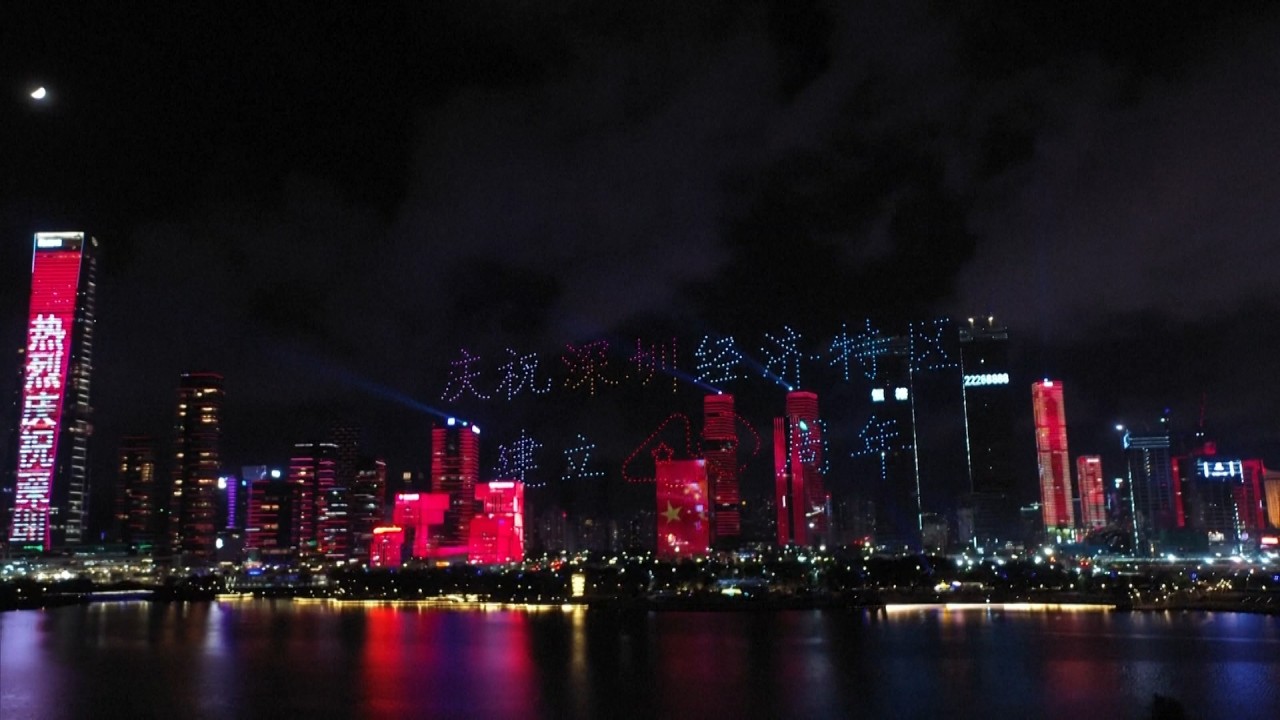 The city soon realized it needed to climb the value supply chain, as its limited land banks ran low and rising land and wage costs drove out low value-added factories. Between 2005 and 2009 Shenzhen announced more than 50 major policies, firmly betting its future on technological innovation.
The bet paid off. Shenzhen attracted major industry and technology leaders such as Huawei, Tencent and DJI and today tops China's affluent city charts with a per capita GDP of more than 203,000 yuan (about US$30,000).
The new crossroads
But Shenzhen, which has just become the world's first 5G city, is at a new crossroads, with many of the factors which contributed to its success – like globalization and a cost-competitive labor force – challenged by the escalating trade and technology tensions between China and the US which threaten the survival of some of its biggest tech companies.
Alfred Wu, associate professor at the Lee Kuan Yew School of Public Policy at the National University of Singapore, said the situation was "a bit like déjà vu" of Deng's landmark visit in 1992. China is again facing sanctions and prolonged trade frictions from the US. This time, he said, there is also the unprecedented challenge of the coronavirus pandemic.
Shenzhen's GDP dropped 6.8 per cent in the first quarter of 2020. An emergency 10 billion yuan rescue package and a 612 billion yuan investment this year in transport and telecommunications infrastructure saw 3.2 per cent growth.
There is also the challenge of a beleaguered Hong Kong, which will be "struggling to re-establish trust from the West to facilitate capital across the border" after the implementation of its national security law, according to Wu."Deng wanted to learn from Hong Kong, Singapore and the West, because he saw China was indeed lagging behind through his own eyes. But things are different now. China has become the second largest economy and Shenzhen's total GDP is bigger than Hong Kong's," he said.
"Many in the mainland believe there is not much they need to learn from Hong Kong and the rest of the world. That is worrisome."
Huang said it was time for Shenzhen to review its city development plan which had so far been focused on development along its border with Hong Kong.
"Shenzhen's export-oriented economic model, which uses Hong Kong as a bridge, may undergo major adjustments. The foundation on which Shenzhen was built as a city in the past 40 years has changed, and urban planning along the Shenzhen River has to be revised," he said.
Huang said Shenzhen was likely to move towards better connectivity with other cities in the Pearl River Delta, especially provincial capital Guangzhou, with its southward development strategy and the rise of its Nansha port district.
According to Huang, Guangzhou's growing importance had led to an increase in Shenzhen's westbound development to link up with the provincial capital and better participate in China's internal economic circulation.
Witman Hung, the principal liaison officer for the Shenzhen Qianhai Authority in Hong Kong, said he believed Shenzhen's new direction should focus on exploring ways to become a "model socialist city" in China and the digital hub for the Greater Bay Area.
While Shenzhen had spent 40 years driving its economy and becoming a competitive place for business and tech ventures, "there is still a lot that needs to be done in housing, education, health and other social safety nets. In Xi Jinping's era, the focus should be on improving the overall quality of life for the city's residents," Hung said.
A key for the next phase of the city's growth in the Greater Bay Area, according to Hung, will be to leverage Shenzhen's core competencies to build a common digital future. "Guangdong's digital economy is leading China at over 4 trillion yuan, so digital GBA is definitely a future trend. The question is to work out a standard across different legal frameworks on privacy protection and forming coordinating mechanisms."
In addition to the city's relentless hardware and software upgrades, there are also concerns about how Shenzhen can still find room for its privately owned companies and residents to keep generating ideas and allowing them the freedom to make occasional mistakes, even politically.
A retired senior official in Shenzhen, who asked not to be named because of the sensitivity of his remarks, said "keeping an open mind and allowing for trial and error" were the two open secrets for Shenzhen's success in the 1990s.
"We left no stone unturned and the bosses in Beijing actually tolerated our audacious moves, just as we treated our own subordinates. Knowing the open political atmosphere, we actually did not worry when Beijing bureaucrats slammed us for some local policies they said were inappropriate. We just continued to find ways to muddle through," he said.
"But things are different now. The new leadership under Xi is very strict in political discipline. I doubt there is the same level of guts for local cadres to argue their case to Beijing and Guangzhou, in order to fight for more room for Shenzhen."
© 2020, . Disclaimer: The part of contents and images are collected and revised from Internet. Contact us ( info@uscommercenews.com) immidiatly if anything is copyright infringed. We will remove accordingly. Thanks!