Pechanga Resort Casino proudly presents the "Choo Mimi 2022 New Year Celebration Concert" at the Pechanga Theatre to kick off the Year of the Tiger!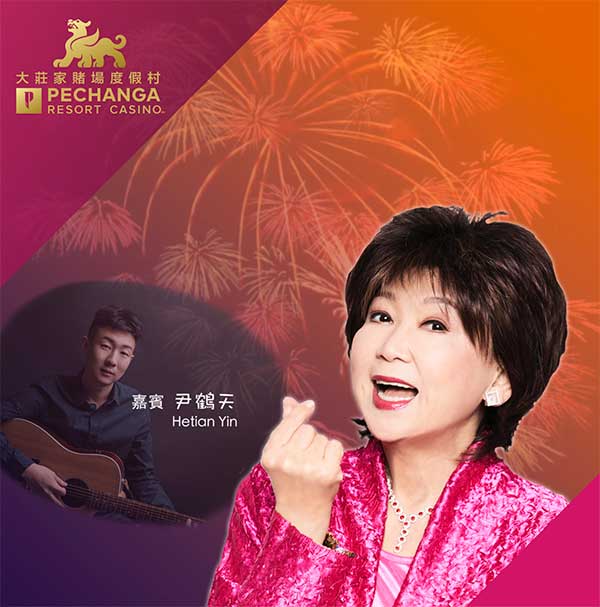 On Saturday, January 15, 2022, Choo Mimi and guest performer Hetian Yin, will bring in joyful songs and hot dance performances to give you a perfect start of the Lunar New Year.
Hong Kong comical singer Choo Mimi has superb singing skills and talented showmanship. Besides her singing career, Choo Mimi is a successful actress in film and artist in television career. Her latest supporting role in TVB Drama "Police Lady 2021" is well acclaimed by audience from all walks of life.
Choo Mimi's concert during the Lunar New Year always brings laughter and joys to every audience with her festive songs and great performance.
Hetian Yin is a rookie debuted in the 2021 Top Star Singing Contest. He has great singing skills, and a passionate, and cheerful personality. Seasoned singer Choo Mimi and millennials Hetian Yin will be a perfect combination of entertainers to celebrate the Lunar New Year with.
Pechanga Resort Casino sincerely invites you to come for the "Joyful Welcome to Year of the Tiger Concert". Tickets are priced at $138, $108, $88 and $68. Chinese hotline: 626-964-4747. For more information, please call (888) 810-8871 or visit www.Pechanga.com.
Shows in the Pechanga Theater offer a comfortable and intimate concert experience. With 1,200 seats in its theater, each show features state-of-the-art and acoustically perfected sound. Enjoying favorite artists at Pechanga versus other venues proves effortless with free valet and self-parking for guests, gourmet and casual dining options on site, plus comfortable chairs and an up-close view from every theater seat.
---

About Pechanga Resort Casino
Pechanga Resort Casino offers one of the largest and most expansive resort/casino experiences anywhere in the United States. Voted the number one casino in the country by USA Today and rated a Four Diamond property by AAA since 2002, Pechanga Resort Casino provides an unparalleled getaway, whether for the day or for an extended luxury stay. Under normal operations, Pechanga offers more than 5,000 of the hottest slots, table games, world-class entertainment, 1,100 hotel rooms, dining, spa and golf at Journey at Pechanga, Pechanga Resort Casino features a destination that meets and exceeds the needs of its guests and the community. Pechanga Resort & Casino is owned and operated by the Pechanga Band of Luiseño Indians.
For more information, call toll free (877) 711-2946 or visit www.Pechanga.com. Follow Pechanga Resort & Casino on Facebook and on Twitter @PechangaCasino
© 2021, . Disclaimer: The part of contents and images are collected and revised from Internet. Contact us ( info@uscommercenews.com) immidiatly if anything is copyright infringed. We will remove accordingly. Thanks!