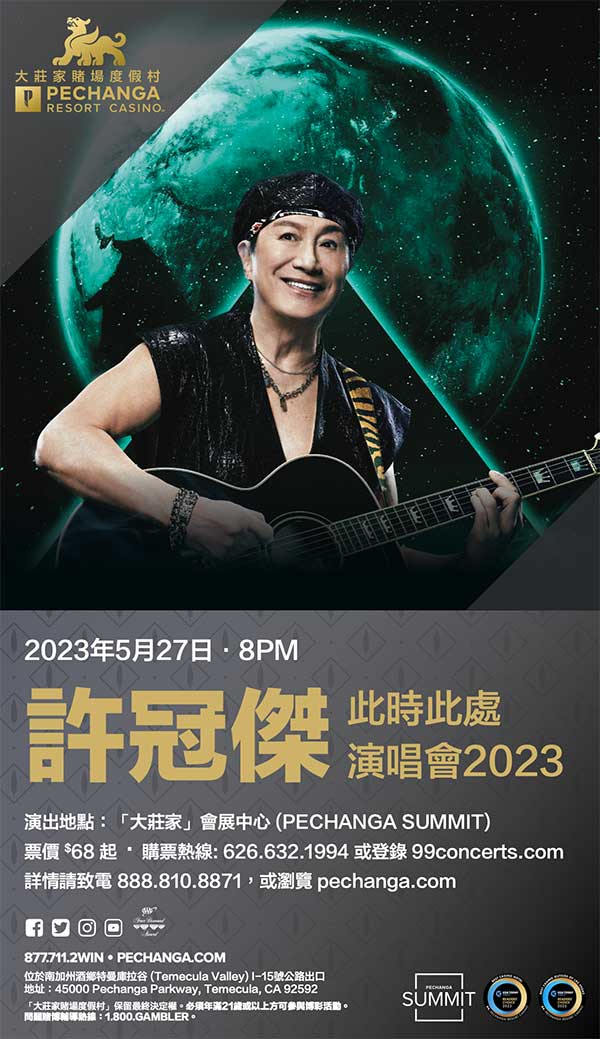 Pechanga Resort Casino proudly presents Sam Hui In One Place Live Concert, where the Godfather of Cantopop will bring back 50 years of oldies but goodies all in one place. Travel through time and re-experience classics from the golden age of Cantopop on Saturday, May 27, 2023.
"Tower Above the Clouds" was the first Cantonese pop song all by Hong Kong local production, and hailed as the origin of Cantopop music, which ushered the big wave of Cantonese songs in the 1970s and after. His songs have aged well over the years. "My works are inspired by people's various aspects of life and their thoughts, which made them easy to resonate," Sam said in his past interview
Sam Hui is deeply attached to Hong Kong, remembering his roots there in his homeland. Seeing his people struggling in tough times, from SARS in 2004 to the impact of the COVID pandemic in the last three years, Sam always stands out to make public performances to cheer up the community. In early April, he started the concert tour at the Hong Kong Coliseum in Hung Hom, and now to Sourthern California to share the joy of music with fans, and to have fun with everyone!
Sam says that he can finally meet and interact with his fans in person and not just on the TV screen, and hopes that this concert will get everyone to feel the power of music, to cheer each other up and promote positive energy into the community.
Pechanga Resort Casino invites you to come and have a good time at the "Sam Hui One Place Live Concert" in the Pechanga Summit. Tickets are priced at $68, $78, $98, $108, $148, $198, $228. For more information, please call (888) 810-8871 or visit www.Pechanga.com.
Pechanga Summit features a 40,000-square foot area for entertainers, concerts, live sporting events, trade shows, weddings, or any large groups to book.  In total, Pechanga now offers 274,500 square feet of indoor/outdoor contemporary meeting and event space, which significantly enhanced the amenities, space and visibility of Pechanga's event offerings.
About Pechanga Resort Casino
Pechanga Resort Casino offers one of the largest and most expansive resort/casino experiences anywhere in the United States. Voted the number one casino in the country by USA Today and rated a Four Diamond property by AAA since 2002, Pechanga Resort Casino provides an unparalleled getaway, whether for the day or for an extended luxury stay. Offering more than 5,400 of the hottest slots, table games, world-class entertainment, 1,100 hotel rooms, dining, spa and golf at Journey at Pechanga, Pechanga Resort Casino features a destination that meets and exceeds the needs of its guests and the community. Pechanga Resort Casino is owned and operated by the Pechanga Band of Luiseño Indians. For more information, call toll free (877) 711-2946 or visit www.Pechanga.com. Follow Pechanga Resort Casino on Facebook and on Twitter @PechangaCasino.
© 2023, . Disclaimer: The part of contents and images are collected and revised from Internet. Contact us ( info@uscommercenews.com) immidiatly if anything is copyright infringed. We will remove accordingly. Thanks!